Transformer's, Sub Station Servicing & HV Cable Testing :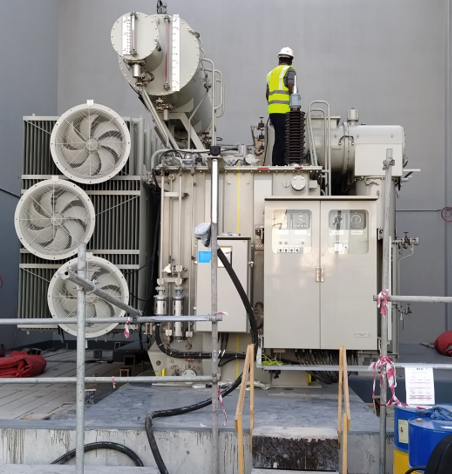 Transformers, Sub-station Servicing & HV Cable Testing :
1. SUBSTATION SERVICES (Up to 132 / 220 kV) INSTALLATION, TESTING & MAINTENANCE SERVICES FOR SUBSTATION EQUIPMENTS
2. INSTALLATION OF SUBSTATION EQUIPMENTS, GIS, TRANSFORMERS, CONTROL AND RELAY PANELS, DC SYSTEM, SCADA SYSTEM, LV PANELS UP TO 132 KV LEVEL.
3. REPLACEMENT, RETROFITTING, REFURBISHMENT OF SUBSTATION EQUIPMENT AS PER THE REQUIREMENTS OF VARIOUS UAE UTILITIES & OTHER INDUSTRIAL SECTORS.
POWER & DISTRIBUTION TRANSFORMERS (Up to 500 MVA 400 kV class) SERVICES
• Installation, Testing (Site testing, Special Testing – SFRA, Tan delta), erection & commissioning of Power & Distribution of Transformer, OLTC operation test, AVR & RTCC panel testing with Transformer.
• Power & Distribution Transformer Testing, On-site Diagnostic Testing of Transformers: Winding resistance test, Voltage Ratio and Vector group confirmation test, Frequency Response Analysis (FRA), No-load excitation current measurement Capacitance and dissipation factor measurement of the inner insulation Capacitance and dissipation factor measurement of high-voltage bushings, Impedance measurements (short-circuit impedance, zero sequence impedance).
• Oil filtration, vacuum application & vacuum oil filling, Oil regeneration, Repair & maintenance of Transformers, Functional testing of Transformer protection accessories- MOG, Buch-holz relay, Sudden pressure relay, WTI, OTI, PRV etc.
• Transformer Erection & Commissioning, Transformer movement / relocation.
• Transformer oil testing as per IEC (BDV, DGA, FURAN, IFT, Viscosity, Acidity, Tan delta, PCB content, Moisture etc.) Transformer Failure Diagnosis, Transformer condition assessment, Life enhancement.
• Transformer inspection services- On site inspection, Factory inspection- in process & Final inspection.
• Installation of online continuous oil filtration equipment
SWITCHGEAR, LV / HV PANELS (Up to 132 / 220 kV class) – Installation, Maintenance & Testing
• GIS LCC panel testing- CB testing, contact resistance test, Breaker timing test, LCC component test, HV test, Mechanical / Electrical interlock test, PD test, CT / VT testing, wiring check / Scheme check, Interface check between Protection panels, SCMS check etc.
• VCB testing, Relay testing- main / back up / auxiliary relay testing, CT / VT testing, Bus bar contact resistance testing etc.
• HV / LV Cable testing, HI POT testing, VLF HI POT testing etc.
• Laying of Power cables, cable terminations, cable jointing up to 33 kV
• Fiber optic cable laying, installation, splicing, Termination and OTDR testing work
• LV AC panel testing, CT component testing, CB component testing, BB contact resistance test, DC scheme checks, LVAC functional test, Ammeter /Voltmeter calibration etc.
• Capacitor panel testing, measurement of capacitance for capacitors, Resistance & inductance measurement for reactors, CT test etc.
• 132 -Transformer protection testing, line feeder protection testing
• Bus bar, Bus Coupler protection testing
• 110 V DC system checking
• 33 kV protection relay testing
• Harmonic studies
• Renting of test equipment
Transformer – Special Test
• SFRA test- Sweep Frequency Response Analysis – SFRA is a signature test. First carried out at Factory and then carried out on transformer after receipt at site. This will ensure that transformer safely Transported to site and no fault developed during Transportation. It will detect shifting of Transformer windings from its original position, shorted turns, partial winding collapse, broken or loose clamping structures for windings, core etc.
• Tan Delta & Capacitance Measurement Test for transformer windings and Bushings: It indicates the insulation condition and a key test for diagnosis and maintenance of the Electrical equipment.
• DIRANA TEST: Moisture analysis of paper insulation by dielectric method (PDC+ FDS)
• PD test – Partial discharge measurements of transformers (Online & Offline)
• Transformer Oil test – Routine oil Test- BDV, Moisture in PPM, IFT, Tan delta, DGA, FURAN, Sulfur content etc.
Address
Saras M&E Services LLC,
Unit 01-D, Dubai Real Estate Centre,
Opposite Jumbo Electronics,
Jebel Ali Industrial Area 1,
Dubai, UAE
Email
Info@saras.ae – for sales & general enquiries
Accounts@saras.ae – for accounting